Home
"I was enchanted by this magical country for every second of my time here."
Myanmar sunsets….that's what I remember best. From a punt in Taungthaman Lake—the UBein Bridge
Or the one from the deck of the Community Lodge in Myiang watching a monk pick clams off the shoreline. Or maybe with Tom the manager of my hotel—at his " secret spot "behind one of 30,000 temples in the ancient city of Bagan. Perhaps the calm serenity of a monk with that magic light bringing out the colour in his marroon robes at Shwedagon Pagoda—possibly the holiest of all Buddhist sites in this extraordinary country? Hard to say which sunset is my favorite.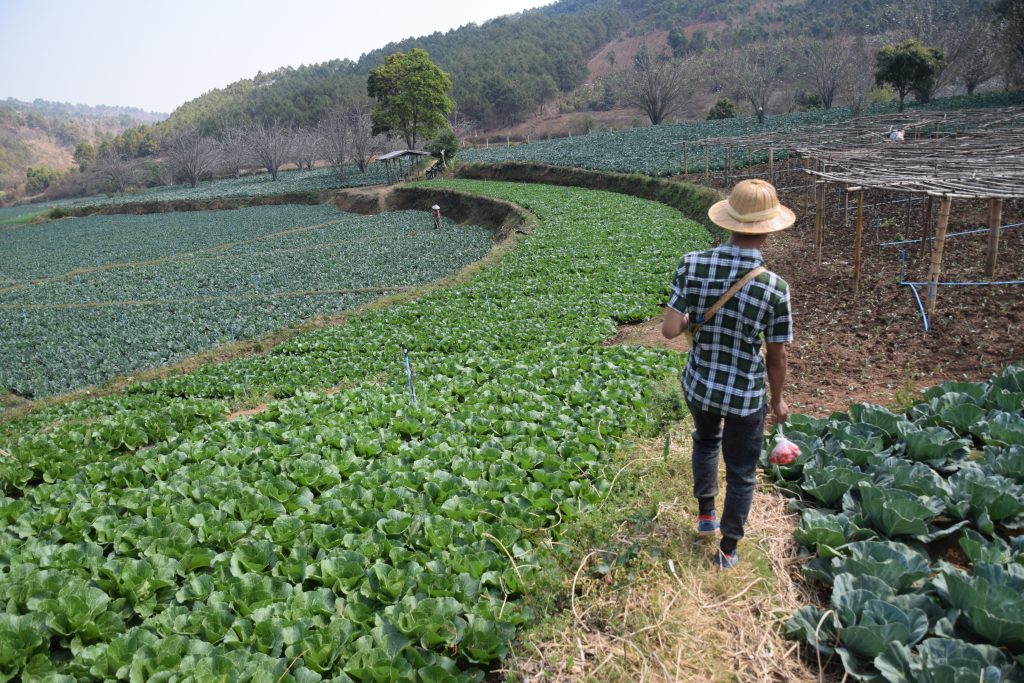 It's easy to be overwhelmed by temples and pagodas in Myanmar. There's so much more to see though. This is a country that has moved so far from its colonial past, yet still plows the rice paddies with a team of oxen. From the chaos of Yangon to the ancient cities of Mandalay, to the serene, peaceful countryside of
Myiang and Kalaw and the sparkling water of Inle Lake at dawn, Myanmar is everything.
It's one of the last frontiers of the world not taken over by the package tour folks yet. Dig down inside and find where you put that intrepid explorer. Gentle people, unique experiences and spectacular sunsets wait for you. "Myanmar—Be Enchanted."
Please see the gallery above for more photos and video. See above for the Itinerary and FAQs.
We're looking at February 2022 for this tour. COVID is still a thing but if all goes well, we are able to travel and Myanmar is receiving guests, we're excited for Feb 2022! Please check back and let us know if you're interested
Got other questions? Contact me!
Itinerary
Daily Itinerary
Here's a summarized itinerary of the tour. An available FULL ITINERARY can be downloaded below.
DAY
ACTIVITY
1
Arrive Yangon
2
Tour of Yangon
3
Morning flight to Mandalay
Mandalay Marrionettes
4
Tour of Ancient Cities
Ubein Bridge at sunset
5
Up the river to Bagan
6
Drive to Miyang
7
Activities at Miyang CBT
8
Return to Bagan by way of Pokokku
Free afternoon
9
(Optional) Balloons over Bagan
Horse and carriage visit to the temples
(Optional) evening sunset cruise and yoga class
10
(Optional) Pennywort Cooking Class
Village visit to craft workshops
(Optional) Sunset e-bikes to the temples
11
Morning flight to Heho
To Kalaw
12
Day hike Kalaw
13
Train to Shewnaung
Transfer to Naung Shwe for Inle Lake
14
Boat tour of Inle Lake
15
Free day in Naung Shwe
(Optional) Bike tour of countryside
Farewell dinner
16
Transfer to Heho and flights to Yangon
What's Included
Services of Tour Director and local guide throughout trip
All transportation including local flights with 1 bag with the exception of tours marked optional
Breakfast each day, welcome and farewell dinner, other lunches and dinner as indicated in full itinerary
Entrance fees to all sites.
Gratuities for local guides/drivers on included activities
What's not included
Gratuities for Tour Director
Meals other than those mentioned
Optional tours as indicated
Gratuities for guides/drivers on optional tours
Additional transportation if you prefer not to cycle at Myiang
Return transport if you decide to return early on the Kalaw hike
Ebike rental in Bagan
Notes
We hope nothing has to change but Myanmar is Myanmar and you need to be flexible. You never know when or why we might need to change a hotel but it can come up. As experienced travellers you know it's all about the adventure and the surprise along the way.
You don't need to speak Burmese but you certainly have time to give it a try between now and then. Try this: It's free: https://www.soas.ac.uk/bbe/
There is a FAQ on the web page.
Do you need trip cancellation/interruption and medical insurance? In a word—yes! Unless you are okay with getting ill or injured and riding it out in Myanmar then you need a way to get taken care of if anything happens. Trip cancellation covers you for everything from lost bags to cancelled flights and all the things you hope don't happen to you.
Do you need shots? Not 'required' but the usual recommended for travel are a smart idea. There is malaria in Myanmar as well as yellow fever but not where we are and February is not the season. Check with your doc about what you need. The advice of covering up, not getting bit and using bug juice with DEET is well founded. (and works for dengue fever as well).
Recommend you download WhatsApp (wifi based communication with me and the rest of the group as well as back home) XE Currency Converter—also works when you're offline! Both free apps.
"Adventures with Kit" trips are unique and well thought out. Please read Is It For You? to make sure the trip is right for you.
FAQs
Frequently Asked Questions
What is the most appropriate type of luggage to bring?
I prefer a backpack or duffel bag, as suitcases can be cumbersome and difficult to store in buses, etc.. Keep in mind that you will normally have to carry your own luggage on and off buses and trains and up and down hotel staircases. Suitcases with wheels may be awkward on dirt or cobblestone roads.
Do your tours include international airfare?
Travelers arrive from all over the world to begin our tours and it is not possible to include international airfare in our prices. We would be happy to help you arrange flights. Just ask for an air quote when making your booking.
What happens when I get to Yangon? (what happens if my flight is late etc)
Arrival
We will have your arrival details. Pick up your bags and proceed through immigration. You'll need the immigration letter you got when you applied for your visa online. Our transfer drivers will meet you on the way out—past baggage and immigration. They'll have a sign with your name on it. They know your flight details and will check to see if its on time/delayed etc and adjust accordingly. If your flight gets in at 3 in the morning, there will be someone there to get you! I will meet you at the hotel.
In the extraordinary situation that there is no one there (stuff happens) don't panic. Have the airport staff put you into a taxi. Please pay for it USD will work. I'll reimburse you on arrival at the hotel. .. Please download Whatsapp to your device (only requires a wifi signal—put your phone on airplane mode and you can use it without accessing roaming with your carrier from home—no cost to you! We'll provide you with contact information in your final documents so you can let me know if there are any last minute changes. I can't imagine you'll need to do this but it's always a good idea to have a plan B and C.
Departure
The tour finishes in Yangon. We'll be flying from HeHo airport to Yangon. Depending on your return details you might just have to grab your bags and walk over to the International terminal or grab a cab to your post night hotel. (Hotel and transfer are on your own account on departure in Yangon—we can arrange this for you if you like)
Please make sure Raelene at ATWT has your flight arrangements and any subsequent changes prior to departure
What clothing should I pack for one of your adventures?
We always recommend packing as light as possible however the specific requirements for your tour will vary widely depending on where and when you are traveling. Please see packing list below—it's specific to Myanmar.
What vaccinations are recommended for this adventure?
It's important that you receive the most accurate and up-to-date travel health information for the region you will be visiting. The only one qualified to provide you with this advice is your family physician or a specialist from a Travel Health clinic. No yellow fever vaccination required. The best advice for mosquitos is to bring bug spray, cover up and don't get bit. We are there during dry season so mossie population is low and the hotels that need mosquito nets have them.
How many people can join a tour?
We keep our group sizes low so you have the freedom to move around and get involved with your surroundings, as well as more personal attention from our local guides. Our maximum is 12 guests on this tour.
Can you provide me with a list of the hotels we will be staying at?
The expected hotels are listed and linked in the full itinerary (available as a download) It may be necessary to change a hotel due to operational concerns but the substitution would be of the same quality or higher. Adventures with Kit reserves the right to change a hotel if needed.
Are there bugs in Myanmar?
Yes.
Are airport transfers included?
All airport transfers are included until you return to Yangon
What type of ground transportation is used on your tours?
In Myanmar we'll be using 3 local flights (included in the price), coach transport for some short trips and transfers, a horse and cart, ebikes and bicycles
Who are my travelling companions? Adventures with Kit has guests from all over the world. Young and more experienced (there! Wasn't that gentle?)
It appears to be a motley crew of travellers from UK, OZ, US and maybe some Canadians. Ages range from 70 to approximately 30. They are all English speakers.
What's the food like–is it spicy?
Not typically. I was delighted to find really tasty dishes with coconut and peanuts and all sorts of different flavours–none of which were spicy unless I requested it. Vegetarians can manage quite well here. Chicken, pork and some beef as well as fish are the meat-eater offerings
Do I need to speak Burmese?
It never hurts to have some of the language. Here's a free resource: https://www.loecsen.com/en/learn-burmese If you get the Burmese down you might want to take a stab at Mongolian or Morroccan—I'm thinking ahead.
.Can I book extra nights of hotel accommodation before or after my tour?
You bet! Strongly recommend you arrange to come in a day or two in advance. We can make those arrangements for you and will try to get you space at the same hotel we're using in Yangon. There are pleasant hotels near the airport if you need a post night hotel or a day room. Ask Raelene—she can likely find you something!
What about power?
I carry a small power bar with me to manage all my devices. Means I only need one adapter and power point. Power is 230 volt 50 hz and uses (C.D.F.G) You can look those up but the quick answer is the Euro style works and some of the hotels have adaptable outlets that will take the British 3 pin plug but will not take the North American style.
Devices using heating elements (hair straighteners/dryers etc) are voltage specific. If your device needs 110 volts (from North America) you'll fry it on 220 without a transformer—NOT AN ADAPTER. Electronics like phones, cameras, computers etc can manage with just an adapter. Note in the photo below it LOOKS like the US style plug will fit but typically it won't. I used my Euro adapter on these.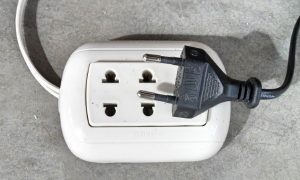 Is tipping included ?
Almost all tips are included with the exception of the Tour Leader. Please speak to Raelene at raelene@atwt.ca for current industry standard. (For optional local tours USD $2 (for an hour,) or $5-7 (for a day) is a reasonable rate if you were happy with the service.)
Packing List
Laundry is easy and cheap (send it out) so packing light is quite manageable. I avoid jeans because they take forever to dry.
Myanmar is a Buddhist country and for the most part it will be quite hot. You still need to err on the side of modesty pretty much all the time (covered shoulders, capris rather than shorts for visiting temples. You could purchase a longi—the skirt-like affair that both men and women wear locally—to put on over shorts where needed. You're barefoot to visit temples so comfortable walking sandals you can get in and out of fast are a great idea.
Make sure you have layers for our visit to Kalaw. Likely a base layer, long sleeved shirt and a fleece for the morning. I wore all three when I was there this year.
Long pants (2 pairs quick dry)
Longsleeved light shirts (2)
Shorts
Socks
Beanie or toque
Light rain gear ( a poncho that would go over your daypack might be practical)
Trainers or hiking shoes
Fleece
sleepwear
Sandals or flipflops
4 x Tshirts
Fleece
Bathing suit
Documents
A visa is required for most nations visiting Myanmar. This can be applied for and approved online. You will require an uploaded photo. I was able to take a selfie on my phone with a white wall as a background and use this!
Flight info (required) (Printouts of e-tickets may be required at the border)
Insurance info (required) (With photocopies)
Passport (required) (With photocopies)
Pre-departure information (required)
Essentials
Binoculars (optional)
Camera (With extra memory cards, ziploc bags for rain and batteries)
Cash, credit and debit cards
Day pack (Used for daily excursions or short overnights)
Ear plugs
First-aid kit (should contain lip balm with sunscreen, sunscreen, whistle, Aspirin, Ibuprofen, band-aids/plasters, tape, anti-histamines, antibacterial gel/wipes, antiseptic cream, Imodium or similar tablets for mild cases of diarrhea,, insect repellent, sewing kit, extra prescription drugs you may be taking)
Flashlight/torch (Headlamps are ideal)
Locks for bags
Moneybelt
Outlet adapter (see the electrical info above)
Personal entertainment (Reading and writing materials, cards, music player, etc.)
Small travel towel
Emergency whistle
Sunglasses
Toiletries (Preferably biodegradable)
Watch and alarm clock (your phone?)
Waterproof backpack cover
Sunhat/bandana
Important Tips
Roll everything
Use some form of packing cell (I use ziplock freezer bags)
Under 20kg for checked bags (domestic flights)
Is It For You?
Hotels
The accommodations are in family run inns, not chains. They're sometimes quirky and unusual. If I find a castle, we'll be in it! Rooms have attached bath, hot water (normally) and air conditioning in Myanmar.. Comfortable, clean and simple are the order of the day. I think I've chosen well. This is definitely not a 5 star trip–we're here for the adventure!
Daily Life
As with all Adventures with Kit, I've left lots of free time with activities available you can join in if you like. Or not. There are some optional activities in Bagan (hot air balloons? cooking class?) and lots of free time to explore on your own. I don't want anyone to feel like they are being herded! If you're at loose ends and you want to have an adventure together, we can meet up on a free morning and decide what everyone wants to do. Or you are free to do your own thing.
Fitness
In terms of health and fitness, you need to be mobile and relatively healthy. We'll be walking over uneven ground on cobblestone streets in ancient towns and ruins. There is a day of hiking in Kalaw and it can be managed by a taxi ride if needed. Also the visit in Myiang—if you don't want to cycle, there are options. It's meant to be a laid back kind of adventure and I hope you're pleasantly tired by the end of the day — not exhausted! Everything we're doing can be done in a good pair of trainers or hiking shoes. Hiking boots are totally unnecessary. I'll be packing my trusty hiking shoes and a pair of sandals for easier days.
Dates & Pricing
Adventures with Kit – Myanmar 2022
16 days (February 2022) – Yangon
Please check back
Ready to Book
Ready to book?
Please Contact Us to let us know you're interested if you haven't already.
Next step? READ and complete the forms below. The waiver and terms/conditions need to be signed (last page), scanned, and emailed to Raelene.
Gallery
Optional Extras