I hate food. In fact, I hate eating. To take that a step further I can say that it dates back to a time when this eating thing was a process that got between doing something really fun and the next really fun thing on the agenda. It meant stopping, washing up, sitting down next to my brother (who was kicking me under the table) for at least 1/2 hour and then likely being part of the "new dishwasher" my mum used to brag about back to her friends who had just purchased one from the local department store catalog.
"I've got 4 of them!" she'd say pointing at me and my siblings in response to her friends gloating over their shiny new Whirlpools and Maytags.
Food was definitely not fun.
So I've been dragged kicking and screaming into this foodie world and am definitely late to the table (pun intended) I've been able to put this childhood scarring on the back burner however, and I'm learning that lots of other people think the kitchen cooking, consuming and sharing experience is one of the finer things in life. I met May in Bagan Myanmar and because you're interested, I signed up for her school: the Pennywort Cooking Class and—LOVED IT! I may be a convert.
We met at the market and May walked us past booths and stalls, pointing out different vegetables, fruits and critters –most foreign and odd-looking to us. Wait! THERE'S an AVOCADO! ( We definitely didn't know the other 9). This goes with this and that with that.
"Okay here's 1800 Kyat" (pronounced chat–approx $1.30 USD) "Go purchase 8 vegetables and herbs and that is what we'll use for the 4 of us. I'll buy some beef and some rice" And that's what we did– making a meal for 4 with leftovers for the princely sum of $3USD per person.
When you join us in Myanmar, this is one of the options available. In the meantime here are a couple of easy recipes you might want to try out. We loved them!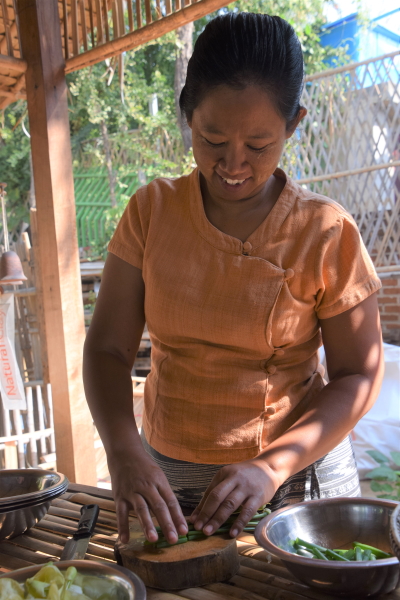 And don't take my word for it. I mean—what would I know? Here are a couple of dishes we really liked. Experiment a little and let us know what you think in the comments below: (Use your imagination if you don't have hummingbird flowers…..)
Myanmar style Hummingbird (Kembang Turi) flower salad
Serves 4 People
Preparation Time 10 minutes
Ingredients
(-) Hummingbirds flowers
1.5 tbsp peanut oil
1 tbsp roasted peanut, crushed
2 small onions ,sliced
1 tbsp. sesame seeds
½ tbsp. salt
½ tbsp. yellow chickpeas powder (dhal flour)
2 garlic cloves, sliced
½ tsp turmeric powder
Lime and Chilli (option)
Preparation
Boil the water and then add hummingbirds flowers
Cover 10 minutes and then drain . Cut finely
Make Onion-garlic oil (Heat the oil and add garlic, 1 sliced onion and a pinch turmeric)
Method
Put Humming bird flowers, peanut, salt, onion-garlic oil, yellow chickpeas powder, lime and chili (optional), sesame seeds and onion. Mix together into the bowl.
2. Myanmar style Colocynth curry
Serves 4 People
Preparation Time 20 minutes
Cooking Time 30 minutes
Ingredients
3 tbsp peanut oil
7 small melon, sliced (cut into quarters. If you want to peel the skin also you can peel.
2 small onion, sliced
2 cloves garlic, ground
½ inch ginger, ground
1 litre chicken stock
½ tsp chili powder
½ tsp salt
½ tsp fish or shrimp paste
Coriander leaves (optional)
Green Chili (optional)
1 tbsp dry shrimps (optional)
2 tbsp roasted peanuts, ground.
Methods for Colocynth
Heat the pan, add peanut oils
Add onion, ginger garlic paste, chili powder, ground peanut, fish or shrimp paste , dried shrimps, and stir around 30 seconds,
Add melon and stir a few seconds. Add 1/3 litre of chicken stock and simmer around 5 minutes.
Add the rest of the stock and cook 10 more minutes.
Add coriander leaves and green chili
Serve with steamed rice
If you like this one there are others! Drop a message in the comments and I'll send you others. Let us know how it worked for you.